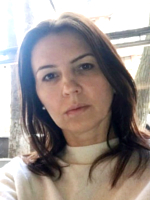 Bohush Inna Viktorivna
Chief Operating Officer
Micro Finance Company
12 years in the financial market
To what extent have quarantine activities affected your business?
Our company is representative of the financial industry, the sector of microfinance institutions (MFIs). But as we treat non-banking financial institutions, MFIs' activities in branch offices were banned in the first weeks of quarantine, while banks could continue to do so. Quarantine has influenced us, of course, less than the tourism industry, but it is also quite strong.
Due to the limitations of our operations, we were forced to make a number of organizational changes quickly:
- remodel company processes to a remote format;
- suspend the work of our branches throughout the country;
- minimize cost items.
The decline in the solvency of the population, as a result of quarantine measures, has led to changes in credit conditions, both in our company and in the micro-credit market as a whole:
- cancellation of promotional rates;
- increase in terms of credit agreements;
- cancellation of penalties and penalties;
- reduction of lending amounts.
What formats do you keep working on? Have new modes appeared?
We continue to work online as before. After April 2, offices began to resume operations as the Government included our industry in the list of quarantine facilities needed to support the country's infrastructure.
How has your client's quarantine demand changed?
Demand has diminished, but only slightly, as we operate in the field of micro-credit, and this is mainly basic necessity loans.
What will change in the work of your company after quarantine?
We plan that, within 6 months of quarantine, we will need to implement flexible loan restructuring programs and loyalty arrangements for our regular customers, as most clients will lose their full or partial solvency time.
What new trends in your customers' behavior and preferences might emerge?
Quarantine has taught many of our previously avoided citizens, for a variety of reasons, related to security issues or the overall culture of using online services, to shop for goods and services online.
Therefore, we look forward to increasing the number of new users of our online lending services.
What changes are taking place in the market in which you work that can occur during quarantine?
One of the major changes in the market has occurred in the online lending sector, and it is associated with a sharp decrease in the cost of attracting online customers.
This, in turn, has significantly reduced the revenue of CPA networks from both major suppliers and customers.
Do you plan to use quarantine time for training?
I do not stop learning at any time and also continue to do so during the quarantine period. There are now plenty of opportunities to do this with remote systems.
What can you recommend to your colleagues - representatives of the tourism business in the current situation?
I would recommend to the tourism industry representatives to change their profile a little over the next six months, for example, to offer courses and online conferences for the exchange of experience and training of young professionals who are just learning and want to learn more about the peculiarities of the work. It is also possible to offer interesting educational and entertaining paid courses for interesting and safe holidays for different categories of clients (children, mothers with children, disabled persons, couples in love, etc.).
That is, to give strength to the formation of a new client base and the formation of a reserve of quality staff, the development of new areas of work.
I have great hope that our tourism business will soon be able to fully operate and we will be able to continue using their services after quarantine.