April 16, 2020 14:00-15:00
Speaker - Slava Svitova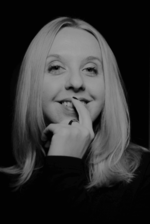 Writer, trainer of writing skill and creativity, motivational speaker. Helps novice authors to show up, write and publish. The author of workshops on writing skills "Pocket stories: the magic of little prose", "How to write text that they want to swallow", "From a box to a book" online courses "Creative Writing: ideas, tools, lifehacks", "Eat a dog: how to write for read "," Turbo Writing: write, edit, publish". Co-founder of Creative Women Space in Kyiv. She believes that great things begin with small steps.
Goals
Create a favorable and safe creative environment for good group dynamics and the manifestation of each participant
Tell us about the basic principles of storytelling and its tools
Demonstrate the formula of a good story and make out on the examples of its components
Talk about the importance of their own emotional experience and motivate participants to tell their personal stories
Enjoy the creative writing process in the group
Short description and program
Why are stories needed and what is their strength?
What is important to understand when creating a story?
Good story Ingredients. Four whales storytelling
How can stories help influence people?
Six principles of successful storytelling
Seven elementary plots on which the story based
Six main stories with Annette Simmons
Stories: who am I? Why am I here?
Instructive stories
Stories of "vision"
Stories showing values ​​in action
Stories on the topic "I know what you think"
7 exercises for daily storytelling practice
As a result of participating in an interactive workshop, attenders:
Will know the formula of a good story
Understand the basic principles of storytelling
Perform a lot of creative exercises, write 3-5 texts
Lose the fear of a white sheet and feel that creative writing is about freedom of expression
Learn how to use your own emotional baggage and experience in the process of building stories that will motivate and inspire others in the team / business, etc.
Understand that stories are everywhere; they will begin to hear, see and tell others (broadcasting their own values ​​and outlooks on the world).
Where can this knowledge be applied?
During public speaking (in a company, at conferences, etc.)
In working with the team (in order to motivate, inspire, give an example, encourage, tell about successes and facaps, the history of the company and brand, etc.)
During interviews (both with candidates and employers)