April 15, 2020 16:30 - 17:30
Speaker - Daria Volkova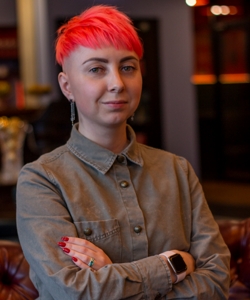 Brand strategist, marketer, creator, PR specialist for companies and personal brands.
Co-founder of Pink Lions agency - brand creation and promotion; design for IT products.
Specializes in:
Integrated development of marketing strategies and brand strategies.
A turn-based communication strategy and PR.
Development consulting for small, medium-sized businesses and IT startups.
8 years creating and promoting brands. In the teams of international advertising agencies, she implemented campaigns for Danone, Citroen, IQOS, Henkel, UIA, Shell and others. Promoted IT products to the markets of Europe and the USA.
Goals
tell and make out, with specific examples, the differences between companies that are still at the stage of developing their brand and those who have already managed to become love mark
identify the main "chips" and ways to build a strong brand and gather loyal customers around it, having a limited budget for marketing and advertising
Short description
Surely, each of us has our favorite brands that we are not ready to exchange for anything else, even if the world ends. If you are a business owner, marketer, brand manager, then it is in your interests to make your company as attractive as possible to customers. How to achieve this and how long will it take to achieve this goal? What is more important - appearance, service, price, reviews or the reputation of the founder? We will talk about this and other factors in the formation of the love mark at the lecture, and we will understand how creativity and creativity turn the brand into a magical one.
As a result of participating in an insight lecture, participants will understand:
Why, with the same product quality, do some companies fall in love with thousands and millions of people, while others are constantly forced to fight for loyal customers?
How to create value for the customer?
The main components of love marks on the example of well-known companies.
You will see the possibilities:
How to organize the collection of field data for analysis and creation of the value of a product or service.
How to learn to ask the right questions to existing and potential business customers.
How to generate custom solutions and implement them for the development of the company's brand.
Where can this knowledge be applied?
Development of own business
Work with the company brand as a marketer / brand manager
Work with the client's brand as a strategist, marketer, and creator