Date: March 13, 2020. Start at 10.00 Duration 2 hours
Key Factors Leading Business Success!
KROK Business School invites you to attend open meeting "Key Factors Leading Business Success!". Our special guest - Atila YENISEN, CEO of METRO Cash & Carry, Bulgaria, MBA graduate from London Business School and General Management program for Executives from Harvard Business School.
During 2 hours we will talk about:
Step by step building business success.
How to build a sustainable business strategy?
Main challenges of business leaders.
How to connect the critical business concepts?
He will also be talking about how to master cross cultural approaches to have the best business results.
A&Q Session.
Meeting working language - English.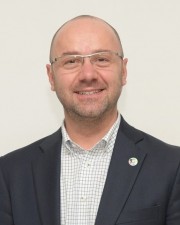 Atila Yenisen
Atila holds position of the CEO of METRO Cash & Carry, Bulgaria since July 2016 .
After having worked for 3 years as a sales and marketing professional, Atila joined METRO Cash & Carry, Bulgaria in 2000 as a category manager in procurement and merchandising department.
In 2003, he was promoted to division manager position for fresh and ultra-fresh products and in 2006 he took over the role of food buying director in Pakistan where he lived for 4,5 years.
Atila then moved to Spain as the offer management director in 2010. He served in Spain for 6 years during which he was also responsible for Portugal for 2 years.
Atila was born in 1972 in İstanbul. He has studied economics, he holds a Masters degree in Business Administration from London Business School . He also attended the General management program of Harvard Business School . Currently he is continuing his Phd studies at Sofia University st. Kliment Ohridski.
He is married and has two kids.
Free entrance. Registration is required.
Contact Lina Kadom