April 14, 2020 11:00-12:00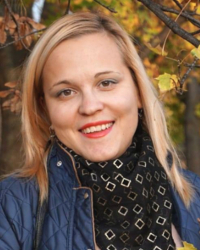 Speaker - Vladislava Kryzhna. The ideological inspirer and creator of "Trainings for Leaders", a certified trainer, coach, art therapist, facilitator. Author of guidelines, articles. She uses methods that she received from national and international trainers and experts (Poland, Germany, Spain, Armenia, Colombia, the Netherlands), as well as her own developments.
Goals
to teach to use the tools of creative thinking, to work out in practice and real actual examples these techniques
help participants understand their template mindset
Short description
The master class will help to better understand the basics of creative thinking and the creative process, as well as learn practical tools for generating ideas.
In a program:
logical and creative thinking: functions, generation and development of ideas
work with barriers of creative thinking (consideration of 2 - 3 examples)
methods of developing creative thinking and creativity (theoretical and practical consideration of 2 tools).
The master class is based on the materials of Edward de Bono, an expert on creative thinking.
As a result of participation in the master class, the participants:
Understand where the ideas come from.
Learn to generate good ideas.
Gain practical experience in using tools of creative thinking.