April 17, 2020 14:00 - 15:00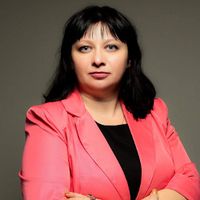 Speaker - Irina Novokhatska - Master of Psychology, business coach, change coach, game practitioner, transformer, innovator, creator and author of the transformational coaching game "Compass" and the IAC "Card" deck.
Goals
Demonstrate how to develop and harness the potential of creativity in everyday life. To teach to use the techniques of generating creative ideas.
Short description
Creativity in everyday life.
How to be creative, staying in reality?
The inner potential of the personality as a way to build creativity. Disclosure of internal potential. Tools for developing personal creativity
Search for custom solutions.
Creating meanings and giving birth to productive ideas.
Ways to develop creative abilities that enhance creativity.
Techniques for generating creative ideas.
By participating, you:
Understand how to generate bright and innovative ideas
Learn to set correct tasks and evaluate ideas
Get specific tools for generating ideas
Begin to form the ability to see non-standard solutions and go beyond the boundaries of stereotypical thinking.
Become on the path to the formation of the skill of generating ideas for creating future products
Here is where you can use the acquired knowledge and skills:
Career
Personal growth
Relations