April 14, 2020 13:00 - 14:00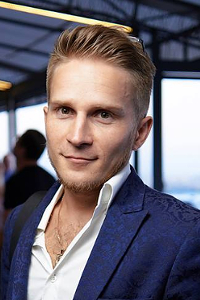 Speaker - Vitaliy Fasolya - researcher and promoter of creative thinking, initiator and coordinator of the Creative Country, a cultural and educational project for the development of creative thinking in Ukraine. 4 years studying world and domestic experience in this area. He is looking for an opportunity to apply such experience in a fundamentally new way, having launched the process of creating a culture of creative thinking in Ukraine. He considers creativity to be a distinctive feature of Ukrainians, an important part of the mentality of the people, which has been formed historically and is caused on the one hand by a strong desire for freedom, and on the other - by external restrictions and oppression.
Goals
To reveal the topic of creativity activation as an integrated system for tuning the human nervous system to generate unique ideas and innovative solutions to problems.
Short description
Creativity is the ability to create new ideas, think outside the box, the ability to creatively solve problems. And for this we need to be able to control the states of our nervous system, activate the body's ability to be creative. It is about the methods of such activation of creativity that will be discussed in our lesson.
By participating, you:
You will learn and see the features of the brain and nervous system of a creative person.
Get specific methods for activating creativity.
Do a series of practical exercises aimed at managing state and imagination.
Participants will understand that:
Creativity is not an abstract concept, but a quality that manifests itself as a result of the proper tuning of the nervous system, psyche and physiology of a person.
Various factors of creativity activation are interconnected and can be controlled.
In creativity - the opportunity to be harmonious, happy, healthy, free and at the same time effective in the modern world.
Here is where you can use the acquired knowledge and skills:
Performing non-standard tasks in school and work.
Management of your creative potential (condition) in everyday life.
Creation of new products, projects, ideas.