Business Club with Denis Ovcharov
Management decisions during the criminal prosecution of the company
Date: June 20, 2019. Time: 18.30-21.00
Place: HUB 4.0, 1/3, Yaroslavsky lane
If you are a business owner, an entrepreneur, a successful manager who is concerned about the company's reputation and success, then the facts will be interesting for you:
In 2018, 120,000 searches were conducted in Ukraine.
According to the statistics of "Judicial and Legal Newspaper" over the past 6 years, the number of searches has increased 45 times.
Every 20 employees of an average company has already been searched.
At least once a week in the media report about the next visit of law enforcement agencies to the business.
We have assumed that criminal proceedings are destructive for business, its reputation and processes. But no matter how paradoxical it may sound, the search serves as proof that the business has reached a certain level, since it has come into the view of law enforcement agencies.
We invite to attend the Business Club entrepreneurs, businessmen, managers to meet Denis Ovcharov, managing partner of Ovcharov & Partners Attorneys Association, Vice President of the Club of Professional Negotiators, compliance officer, accredited expert of the National Bar Association of Ukraine.
Topic for discussion: "Making management decisions during the criminal prosecution of the company."
During the meeting in the Business Club we will discuss the following questions:
Search as a sign of success
We will have a search - what to do?
Number one readiness for search, types and practice of searches
Criminal proceedings and crisis management
Errors of the company's management during the search
How to minimize errors
In a programme:
Guest Talk by Denis Ovcharov
Q&A session
Communication with experts from different industries in a pleasant atmosphere
Networking over a glass of wine.
About speaker: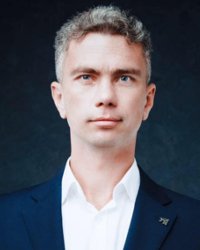 Denis Ovcharov has 15 years of legal experience and nine years of experience in law practice. He specializes in issues of legal protection of businesses during criminal prosecution, investigation of internal embezzlement and fraud, building a corporate security system, and developing and implementing anti-corruption policies in companies.
Based on his many years of experience, he has developed instructions and trainings for businesses on the subject of inspections, searches and interrogations, and is also the author of numerous publications on business security.
Denis was recognized as the leading lawyer in 2016 in the field of criminal law, as well as one of the best lawyers in criminal cases in 2017 according to the professional rating "Market Leaders. Legal Practice".
Participation fee: 500 UAH.