Business Club with Peter Sinegub "Rules 36.6".
The foundation for creating a corporate culture in the company.
Venue: KROK Business School, Tabirna 30-32
Date: September 24, 2019. Time: 17.30 -20.00
If you are a business owner, entrepreneur, successful manager who is worried about the company's reputation and its success, or an employee of the company, then we recommend you to attend the meeting with Peter Sinegub.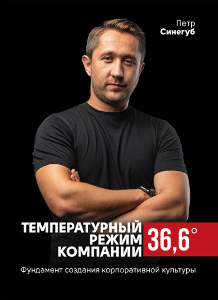 Guest of the Business Club:
Peter Sinegub - Founder of the "World of Weights" Group of Companies, 4SMART Business Academy, Co-owner of the Vogner social business, Co-founder of the BOARD mentor and mentor community.
14 years of practical experience in managing own manufacturing companies and retail business in B2B and B2C segments in the CIS markets, Member of CEO Club Ukraine, League Club, CCI, KDL, SPU, Board.
At the meeting, we will talk with Peter about such important aspects as:
Why are there rules in the company?
How to implement the rules and principles of interaction?
Why company needs mission and values?
Petr Sinegub will share his personal experience in creating companies and present his book "Company Temperature 36.6."
"I will not say that they are written in blood. But certainly tangible monetary losses, stresses and disappointments in people. These are personally my mistakes, mistakes of my companies and other business owners with whom I communicate.
These are the rules, principles and paradigms that were approved by me and created by all the employees of my companies for 14 years.
The special value of this rich collective experience is that it was correctly interpreted, effective solutions were found for each situation - and formulated in the form of rules.
If you are a business owner, manager? Or, perhaps, an employee of the company who wants to develop along with it by improving their work processes, increasing personal effectiveness and the quality of interaction with colleagues at all levels? Then this book is for you.
This book is the foundation for creating a corporate culture in a company. "
Agenda:
Talk by Peter Sinegub and presentation of the book
Questions and answers
Networking "drink & talk" over a glass of wine.
Each meeting participant will receive an electronic version of the book as a gift!
The participation fee is 300 UAH.
For students, graduates and faculty members of the KROK Business School, admission is free. Registration is required.